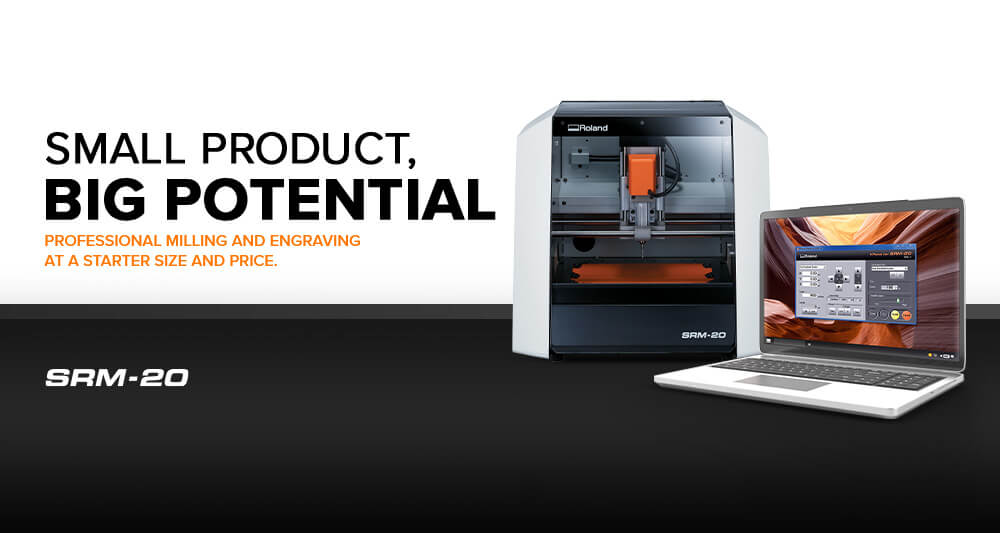 SRM-20 Compact Mill & Engraver Solution
MSRP

SRM-20: $3,995 US*
Engraving Accessory Kit: $695 US*

* U.S. only. For Canada, Latin America and Caribbean pricing, please contact an Authorized Roland Dealer in your area
The SRM-20 Compact Mill paired with the Engraving Accessory Kit makes it an ideal solution for small, simple, and affordable production of everything from plastic signs and awards, to diamond scribed gifts and custom circuit boards. The compact size fits into any home, office, or classroom desktop environment, while included software and accessories make it easy to get started. The Engraving Kit can be added to an existing SRM-20 or purchased together to start engraving right out of the box.
Optional Engraving Accessory Kit
Expand the SRM-20's capabilities to include diamond scribing and rotary engraving, ideal for applications like name tags, PCB boards, gifts marking, serial plates, and more. The SRM-20 engraving kit includes:
Engrave and Mill Products
from Your Desktop
A wide range of materials, including plastic, wood, foam, acrylic, ABS, PC boards and more can be precision milled and engraved using the SRM-20 small engraving machine and engraver kit.
Precision and Productivity
Engineered for efficiency and productivity, the SRM-20 is a desktop mill with a micro-step motor drive system for clean and precise milling, while the optional Engraving Kit expands the capabilities even further to include engraving applications and materials.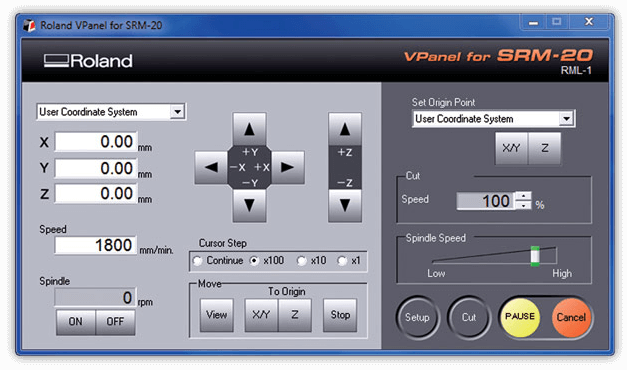 Multi-axis milling is as easy as X, Y and Z
A number of features ensure SRM milling and engraving are simple and precise, including a touch-button VPanel controller to regulate feed rate, spindle speed and milling on X-Y-Z axes, and an independent collet system that allows for faster setting of the Z-axis base point and quick tool changes.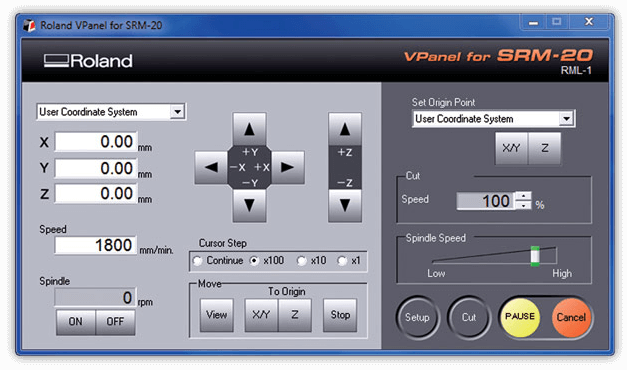 Powerful Spindle Motor

G-Code Compatible

Maximum Axes Operation:
8"(X) x 6"(Y) x 2.38"(Z)

| | |
| --- | --- |
| | Independent Collet System |
| | Bundled SRP Player Software |
| | Versatile Tooling Options |
Additional Information
Expand All
|
Collapse All
Datasheet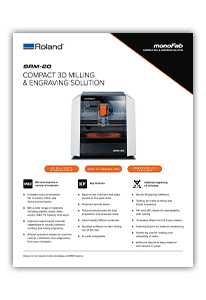 Download Your SRM-20 Brochure
Get your digital guide to all the features, applications, benefits and specifications of the Desktop Milling Machine.
Download Brochure
Specifications 
MODEL
SRM-20
Cuttable Material
Modeling Wax, Chemical Wood, Foam, Acrylic, Poly acetate, ABS, PC board
X, Y, and Z Operation Strokes
8 (X) x 6 (Y) x 2.38 (Z) inches,
203.2 (X) x 152.4 (Y) x 60.5 (Z) mm
Workpiece table size
9.14 (X) x 6.17 (Y) inches,
232.2 (X) x 156.6 (Y) mm
Distance From Collet Tip to Table
Maximum, 5.15 in
(130.75mm)
Loadable Workpiece Weight
4.4 lbs (2kg)
X-, Y-, and Z-Axis Drive System
Stepping motor
Operating Speed
0.24 – 70.87inch/min,
6 – 1800mm/min

Software Resolution
0.000039 inches/step (RML-1), 0.000039 inches/step (NC code),
0.01 mm/step (RML-1), 0.001mm/step (NC code)

Mechanical Resolution
0.0000393 inches/step,
0.000998594 mm/step
Spindle Motor
DC motor Type 380
Spindle Rotation Speed
Adjustable 3,000 – 7,000 rpm
Cutting Tool Chuck
Collet method
Interface
USB
Control Command Sets
RML-1, NC code
Power Requirements
Machine: DC24V, 2.5A,
Dedicated AC adapter: AC 100-240V ±10%, 50/60Hz
Power Consumption
Approx. 50W
Operating Noise
During operation: 65 dB (A) or less (when not cutting),
during standby: 45 dB (A) or less
External Dimensions
17.76 (W) x 16.80 (D) x 16.78 (H) inches,
451.0 (W) x 426.6 (D) x 426.2 (H) mm
Weight
43.2 lbs, 19.6 kg
Installation Environment
Temperature of 41 to 104 °F (5 to 40°C),
35 to 80% relative humidity (no condensation)
Included Items
USB cable, AC adapter, Power cord, Collet (6mm, .236 inches), Collet set screw, Spanners (7,10mm / 0.28, 0.39 inches), Hexagonal wrench (size 2,3 mm / 0.059, 0.12 inches), Positioning pins, Double-sided tape, Start-up page guidance card, Cutting tools not included. Imperial sized collets and cutting tools not included.
System Requirements
Operating system (OS)
Windows 7/8/8.1 (32-bit/64-bit edition)*
CPU
Intel® Core 2 Duo or more (Core i5 or more recommended)
Memory (RAM)
1GB (2GB or more recommended)
Video card and monitor
A resolution of 1,280x1,024 or more recommended
Free hard-disk space required
as a working space
100 megabytes or more recommended
Other requirements
Internet connection and web browser,
Internet Explorer version 10 or more recommended