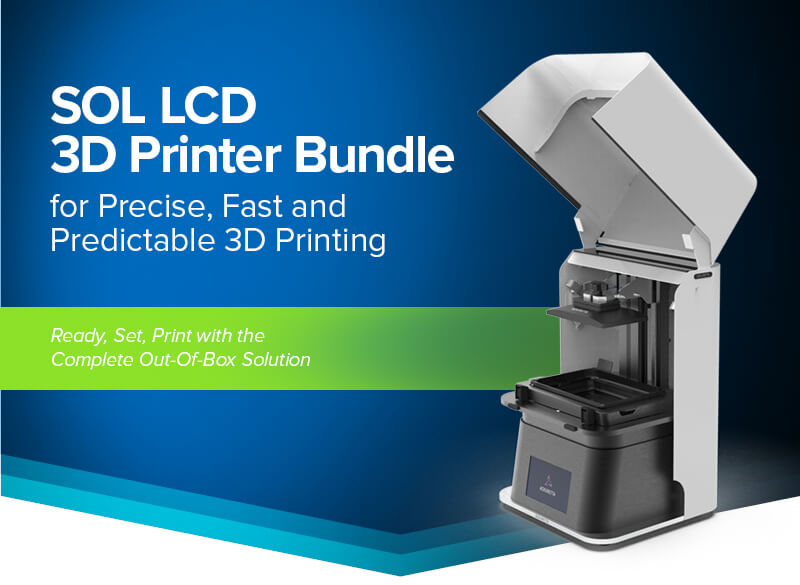 Expand your business's offerings
with the capability for same-day dental 3D-printer applications
and eliminate the need for outsourcing
SOL LCD Dental 3D Printer Bundle

ACK-SOL-K
Distributed by Roland DGA
The SOL LCD Dental 3D Printer, distributed by Roland DGA and in partnership with another industry leader, offers a sleek, compact design and innovative LCD technology. Equipped with the precision of 49-micron pixels, it provides a smooth surface finish with fast, predictable and accurate printing (4.5cm/hour) over the entire 128 x 80 x 140mm build-plate.
Ready-to-print accurate dental models, provisional crowns and bridges, occlusal guards and more right out of the box
Set up is easy with its included AI software that offers 100+ pre-calibrated resin profiles and instant access to resin/firmware updates
Print at 3x the speed of standard SLA printers and utilize 5x more UV power to match/exceed DLP printers
Eliminate Outsourcing and Expand In-House Capabilities
with the SOL LCD 3D Printer Bundle Distributed by Roland DGA
The SOL LCD 3D Printer offers an open material system, 100+ pre-calibrated materials and compatibility with a wide variety of tools and resins. With no user calibration necessary and selective curing technology, you can quickly and easily produce same-day dental applications that have a long lifespan and eliminate the need for outsourcing.
Explore the SOL LCD 3D Printer's
Capabilities and Specifications
Ready, Set, Print
All-Inclusive SOL LCD 3D Printer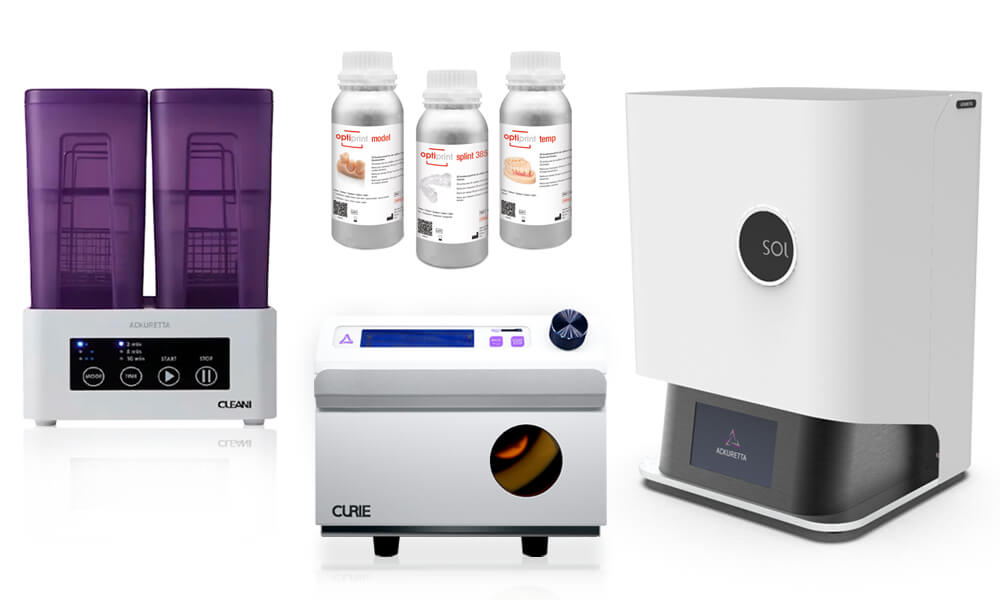 Ready-to-Print Bundle Includes
SOL LCD 3D Printer
2-Year Standard Warranty
Alpha 3D Software: Quarterly Updates & Precalibrated Resin Profiles Included
Resin Starter Kit: 3 Liters of Resin (Model, Temp, & Splint)
Cleani Ultrasonic Dual-Tank Cleaning Unit
Curie UV Curing Unit – Approved for CLII Dental Applications
Spare Vat and Print Screen
Wi-Fi Dongle
Ethernet Cable

Expanding Your In-House Workflow is Easy with Industry Leader DGSHAPE from Roland DGA
Known for consistency and reliability, DGSHAPE from Roland DGA is shaping the dental industry as the most-trusted brand for reliable dental milling solutions and the leading choice of dental professionals. Expanding its digital dental technology offerings, the SOL LCD 3D Printer makes it even easier for dental labs, clinicians and DSOs to produce precise, fast and predictable 3D-printed dental applications in-house.
Integrate Your Systems with Open Architecture:
With its open architecture, the DGSHAPE Wet and Dry Dental Mills and SOL LCD 3D Printer seamlessly integrate into your workflow, while streamlining production and offering complete material freedom
Increase Your Capabilities with Efficiency:
Simultaneously mill same-day chairside final restorations with the DGSHAPE DWX-42W Wet Dental Mill and produce models and more with the SOL LCD 3D Printer for faster turnaround times and increased ROI
Generate New Revenue Streams:
From custom titanium abutments (with DWX-42W's AK-1 Kit) and high-quality final restorations to printed occlusal guards and bite splints in roughly 40 minutes, expand your in-house capabilities at a minimal cost per unit
Additional Information
Expand All
|
Collapse All
Specifications 
SOL 3D LCD Printer
3D Printing Technology
LCD
Printing Size
5 x 3.2 x 4.7 in.
(128 x 80 x 140 mm.)
Printing Speed
4.5 cm./hr
Pixel Size
49 Micron
Printer Wavelength
385~405 nm.
Material System
Open Architecture
Machine Size (Width x Depth x Height)
11.4 x 10.6 x 16.5 in.
(29 x 27 x 42 cm.)
Machine Weight
~33.1 lbs.
(~15 kg.)
Power Supply
110-240 VAC, 50-60 Hz
Brochure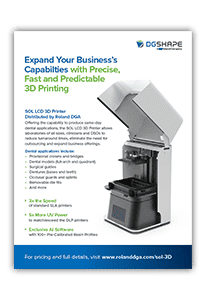 Download Your SOL 3D Printer Brochure
Get your digital guide to the features, applications, benefits and specifications of the SOL 3D Printer.
Download Brochure