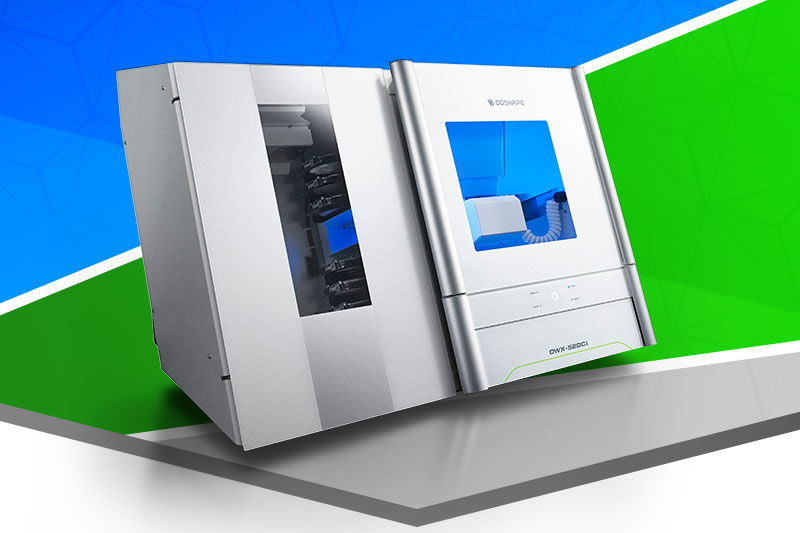 DWX-52DCi Dental Milling Machine with Automatic Disc Changer
The ultimate in ease, material flexibility and unattended production, the DWX-52DCi dental milling machine with automatic disc changer expands your lab production and profit. With a 6-slot Automatic Disc Changer, 15-station Automatic Tool Changer and other automated features, it gives users of all skill levels an exceptionally powerful, efficient and affordable dental restoration solution.
Intelligent, Unattended Milling
The DWX-52DCi dental milling machine now comes with performance visualization software and other intelligent updates. Power it on, let it go, and automatically mill numerous dental restoration jobs with complete unattended confidence.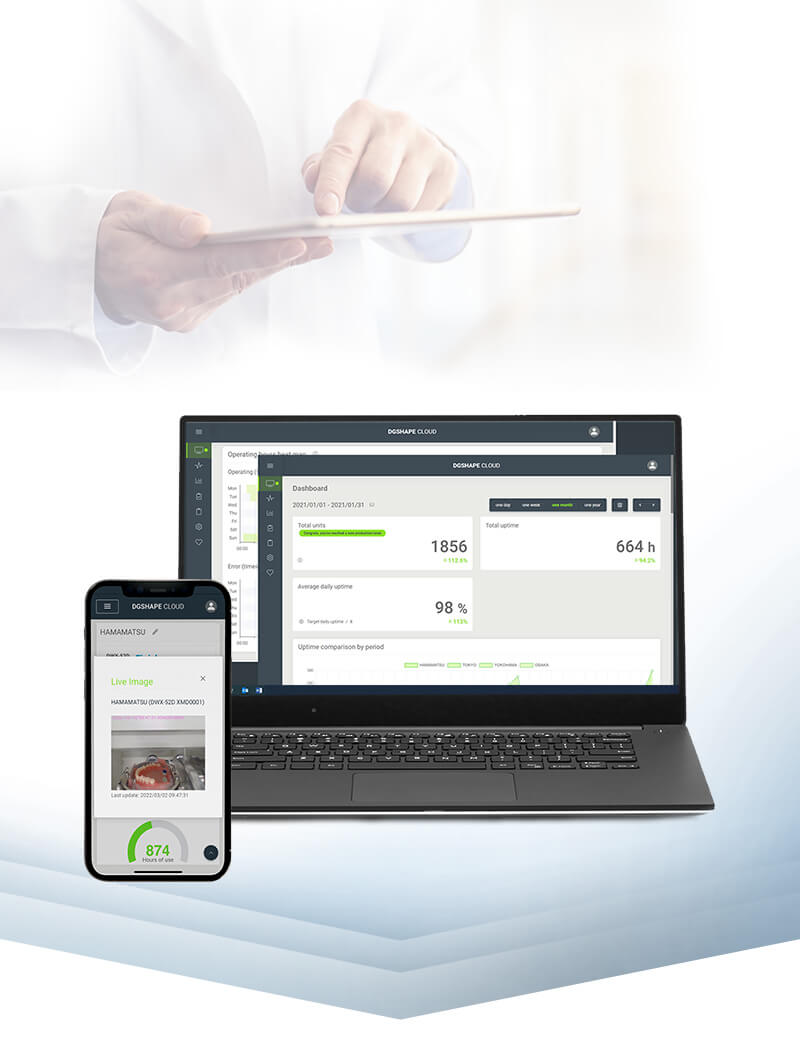 NEW
DGSHAPE CLOUD

Remote Management of All Current

DGSHAPE Dental Mills from One Location

Enhance your business' ROI and minimize downtime with DGSHAPE CLOUD performance visualization software that allows for remote monitoring of the new DWX-53DC, DWX-42W, and all DWX-52D series mills from one location, desktop or mobile. The new, enhanced dashboard with artificial intelligence (AI) allows for remote monitoring of mill performance, productivity, mill maintenance, tool usage and more.

Click here to register for your free account today.
Additional Features
Six Adapters Included
For an easy set-up and operation, right out-of-the-box
Intelligent Tool Changer (ITC)
Knows which tool to automatically swap out when tools have reached their designated lifespan
5-axis Milling
Ball screw-driven system with 5-axis positioning or simultaneous operation
Virtual Machine Panel (VPanel)
A user-friendly VPanel enables easy production and device monitoring – including advanced email notification
Ionizer
Reduce dust and static when working with PMMA
Clean Milling Environment
A powerful auto-on internal dust collection system and automatic cleaning brush ensure a clean milling environment
Air Pressure
Automatically changes air pressure based on the CAM material data
Additional Storage
Store tools, jigs, adapters and more in a handy, built-in storage draw
Additional Information
Expand All
|
Collapse All
Specifications 
DWX-52DCi
Cuttable material
Zirconia, Wax, PMMA, Composite resin, PEEK, Gypsum, Fiber reinforced resin,

soft milling CoCr sintering metal

Loadable workpiece shape
Step section:
98.5 mm (diameter), height 10 mm

Body section:
95 mm (diameter), height max. 35 mm
Pin diameter: 6 mm
Pin diameter:
6 mm
Loadable workpiece weight
Up to 850 g
Number of adapters housed
6
Operating speed
XYZ axis:
0.24 to 70.9 in./min.(6 to 1,800 mm/min.)
Spindle motor
Brushless DC Motor
Spindle speed
6,000 to 30,000 rpm
Rotary axis travel angle
A:
±360°
B:
±30°
Number of burs housed
15
Attachable bur
Shank diameter:
4 mm
Length:
40 to 55 mm
Compatible compressed air
0.2 MPa
Interface
USB
Control command set
RML-1, NC code
Power requirements
AC 100 V to 240 V ±10%, 50/60 Hz, 2.0 A
(overvoltage category II, IEC60664-1)
Power consumption
Approx. 200 W
Operating noise
During operation:
70 dB (A) or less (when not cutting),
During standby:
45 dB (A) or less
External dimensions
Width x Depth x Height:
34.6 x 26.0 x 23.6 in. (880 x 660 x 600 mm)
Weight:
105 kg (231.5 lbs.)
Installation environment
Indoor use, Altitude: Up to 2,000m (6,562 ft.), Temperature: 5 to 40 ℃ (41 to 104°F), Humidity: 35 to 80 % (no condensation), Ambient pollution degree: 2 (as specified by IEC 60664-1), Short-term temporaty overvoltage: 1440 V, Long-term temporaty overvoltage: 490 V
Included items
Power cord, Power plug adapter, USB cable, Manuals, Roland DG Software Package CD, Detection pin, Automatic correction jig, Pin-type material adapter, Hexagonal driver, Spanner, Milling bur holders, Milling bur positioner, Dust collection hoses, Dust collection hose adapter, Regulator, Cleaning tool, Option adapter labels, Material adapters
System requirements for USB connection
| | |
| --- | --- |
| Operating system (OS)* | Windows® 7/8/8.1/10 (32 or 64 bit) |
| Optical drive | CD-ROM drive |
| USB cable | Use the included USB cable |
Options
| | | |
| --- | --- | --- |
| Item | Model | Description |
| Pin-type material adapter | ZV-52DC | Pin-type material jig for replacement |
| Material adapter | ZMA-52DC | Material adaptor for replacement |
| Cleaning tool | ZCT-4D | Cleaning tool for replacement |
| Milling bur holder | ZBH-4D | Milling bur holder for replacement |
| Spindle unit | ZS-4D | Spindle unit for replacement |
| Collet | ZC-4D | Collet for replacement |
| Spindle belt | ZSB-170 | Spindle belt for replacement |
Brochure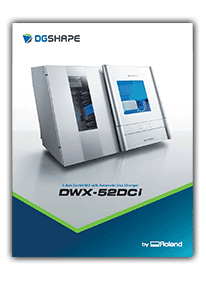 Download Your DWX-52DCi Brochure
Get your digital guide to all the features, applications, benefits and specifications of the Dental Milling Machine with Automatic Disc Changer.
Download Brochure