Creative professionals around the world use Roland DG technology to transform their imagination into reality.
View their work at our headquarters in Irvine, California by exploring below.
In the Southern California area?
Experience the Roland DGA Creative Center in person. [map]
Just give us a call at (800) 542-2307 to reserve your time.
View other Roland DG Creative Center locations around the world.
Want to showcase your work?
Join us in celebrating creative excellence. Simply send JPEG images of your best work produced on a Roland DG inkjet, engraver, cutter or 3D device to Marc Malkin at mmalkin@rolanddga.com. If selected, your name and company name will be displayed along with your work.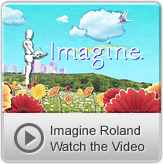 See inside Roland DGA