Print Vinyl for Floor Graphics
Adhesive vinyl and film products have become so advanced and varied— available in so many different thicknesses, adhesion types, grades of durability and engineered to suit all different machines and applications. No longer a specialty product, vinyl floor graphics have become a mainstay application for many sign shops who produce floor graphics as a major source of revenue. Its importance has become even more apparent in recent years with grocery stores, post offices, retail stores and other businesses using printed vinyl floor graphics to play a key role in social distancing messaging and instruction.
Roland DG has a choice of floor sticker printing technologies available to create floor coverings and graphics. The following applications represent some of the profitable products you can create. For all these applications, we recommend that use our latest GuardLam™ overlaminate film to protect your graphics in style.
Company Floor Messaging and
Social Distancing Vinyl Floor Graphics
Companies need floor graphics more than ever to instruct customers about instore health and safety, directional signs on where to pick up delivery items, about social distancing and other essential floor signage. For those who are looking to produce floor messaging and graphics for schools, stores, restaurants and more, Roland DGA offers an all-in-one social distancing print solution that includes templates, media, and equipment.
Branding and Logo Applications for Printed Vinyl Floor Graphics
Put company logos on the floors of retail stores, hotel lobbies, airports, bars, restaurants, office receptions and anywhere else where companies want to make the best use of all of their floor space to promote their name and brand. These products are especially easy for sign shops to provide when equipped with TrueVIS printers and printer/cutters that feature new Green and Orange inks for an expansive print gamut and easy recreation of exact brand colors.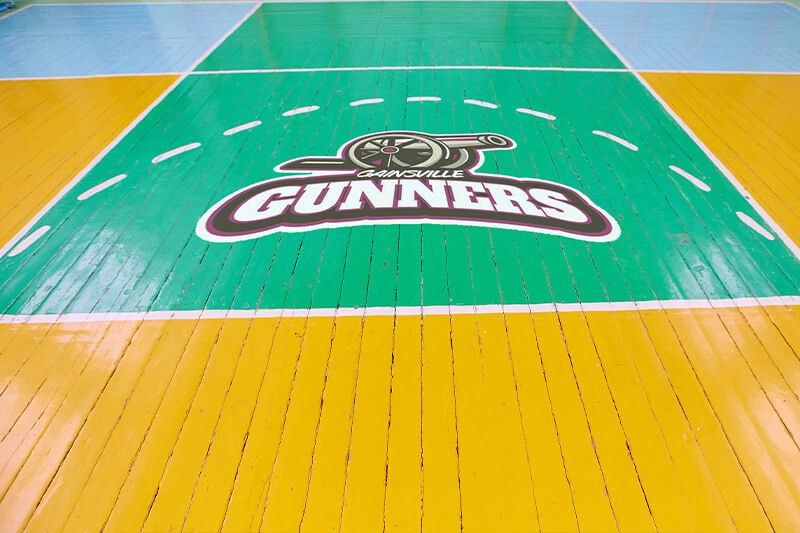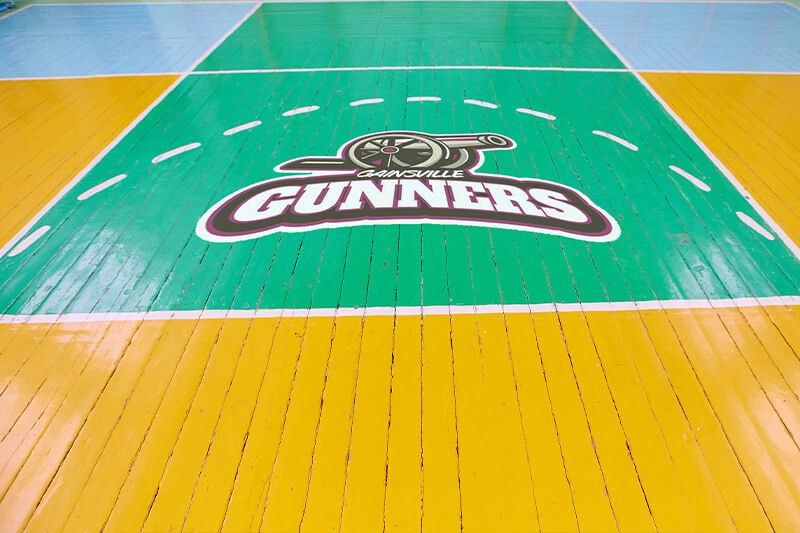 Sports and Recreation Vinyl Floor Graphics
Add graphics to basketball courts, locker rooms, training courts, gyms and other sports facilities for your sign, graphics, or implant business. With TrueVIS printers you can create perfectly branded vinyl floor graphics — finished with
GuardLam™ overlaminate film
that provides slip-prevention options to give your graphics added grip and durability.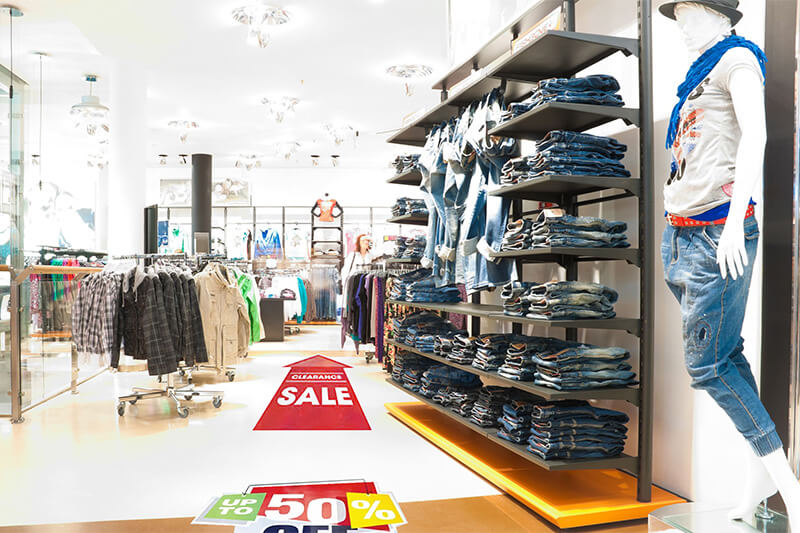 Vinyl Floor Graphics for Sales and Promotions
Vinyl floor promos are an inexpensive way for grocery stores, gyms, take out restaurants, salons and other places of business to create stand-out advertisements. Put sale signs, share QR codes, present new products and other promotions at floor level where customers can easily see them while they wait-in-line. There are literally hundreds of choices in vinyl floor media to make inexpensive, easy-to-apply floor signage.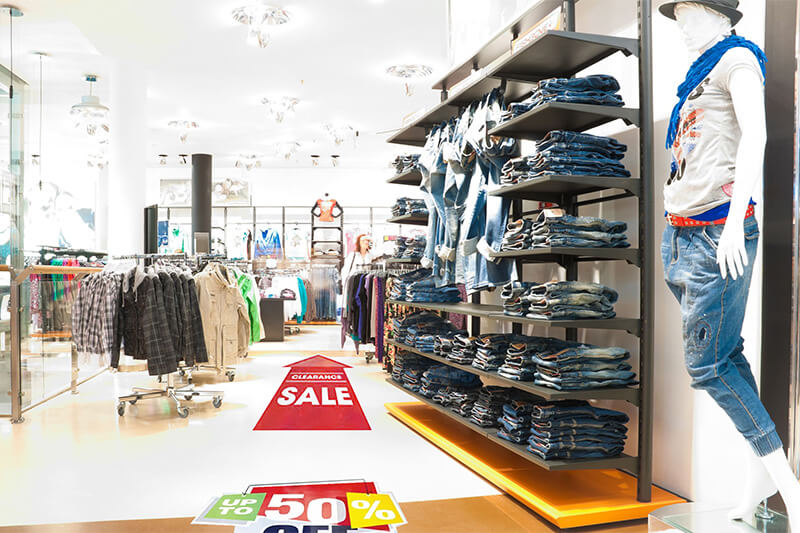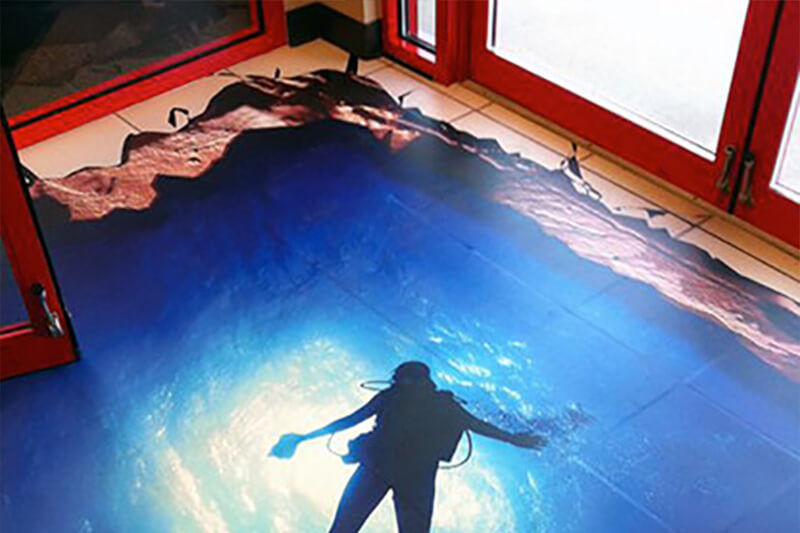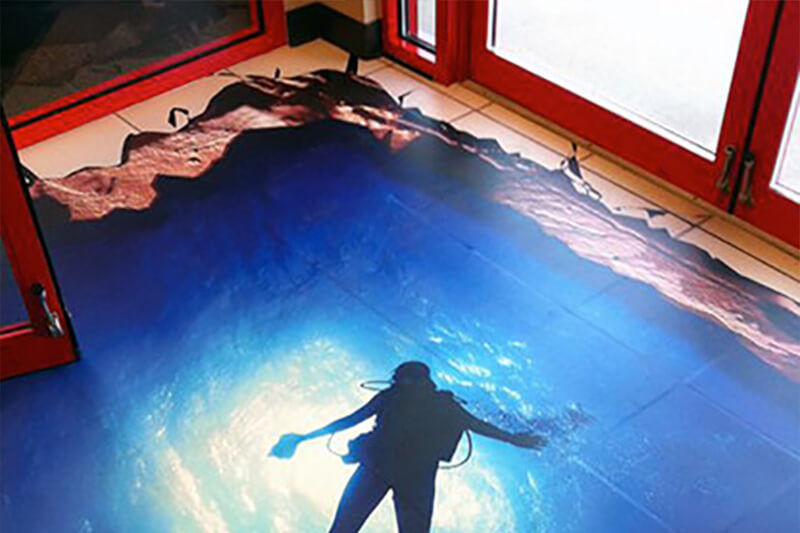 Special Effect Vinyl Floor Graphics
Make bold statements with your floor graphics and add special effects to floors to add excitement, drama, and fun to tradeshow booths, retail stores, sports venues, movie theatres and many more locations where your customers want to grab the attention of their patrons in unique and unforgettable ways. With TrueVIS printers, you can create brilliant, photorealistic floor graphics to wow your clients and their customers.
Faux Vinyl Floor Graphics Effects
Create faux rugs, accents and entire floor spaces to look like tile, hardwood, and other products with vinyl floor graphics. This is the age of "peel and stick" products where many people and companies want decorative, non-permanent solutions for their homes, showrooms, tradeshow booths, and workspaces. With machines like the VersaUV LEC2 series UV printer/cutters, you have the option of not only printing on vinyl for specific floor décor, but also adding Gloss ink effects to mimic real wood or to add brilliant textures and patterns.