PRINTING ON ACRYLIC
Acrylic is a very commonly used material in construction, signage, manufacturing and décor applications. Acrylic printing machines open your business up to so many opportunities in sign and graphics customization. From printing onto acrylic products, to printing onto full acrylic sheets, sign and graphics suppliers need to understand this versatile material and the specific machines that are designed for printing onto acrylic.

A Guide to Acrylic Printing
Acrylic is also known for its popular brand names like, Plexiglas, Lucite, Acrylite and Perspex. The major benefit of printing onto acrylic is that it's lightweight, impact resistant, and durable. It's also more adaptable to direct print methods like UV printing when compared to glass that has more of a moisture-repellent silicate surface that's more challenging to print on.
There are many acrylic products, including mirrored acrylic, light diffusing acrylic, anti-static acrylic, Lucite block acrylic for lighting, solar tinted acrylic and many more types, the following are some of the most commonly used types.

Clear Acrylic Sheeting (cast acrylic) is the most common form of acrylic— supplied in all thicknesses from 4 inch to 0.003 inch, from widths of 3 ft to 10 ft, and lengths from 4 ft to 12½ ft. Impact resistant and less likely to crack, it's often used as an alternative to glass.

It's used in manufacturing, construction, décor and indoor sign applications.



White and Colored Acrylic (cast acrylic) is a variation of clear acrylic that's supplied in transparent colors that range from subtle gray tints to vivid fluorescent shades. It's also available in opaque (flat) colors that span the color spectrum.

It's used in manufacturing, construction,
art, décor and indoor sign applications.



Extruded and Sign Grade Acrylic is made for tough environments. It's durable with very high impact-resistance and is less likely to crack when cut or drilled than cast acrylic. It has high scratch-resistance and is resistant to bending and snapping.

It's used in manufacturing, construction, and outdoor sign applications.



Polycarbonate is a close material relative of acrylic. It's an extremely durable material with very high impact-resistance and is less likely to crack when cut or drilled than acrylic. It has low scratch-resistance and is flame resistant— more difficult to heat and bend. Unlike acrylic, it can be thermoformed into products like roofing sheets.

It's used in manufacturing, construction, packaging, and sign applications.



Printing on Acrylic Products
Acrylic is a great substitute for glass, especially when it comes to shields, trophies, and award products. It doesn't smash like glass or represent a safety risk if it cracks or breaks. Because of its glass-like luminescence, it's also used for home décor applications items like candle holders, wall plates, lamps and even larger items like end tables and chairs. Use VersaUV flatbed technology to directly print onto these items or engrave on them with a selection of Roland DGA rotary and laser engraver machines.
Printing on Acrylic Stands, Signs and Displays
Acrylic is used to create signs, stands and displays for restaurants, museums, tradeshows and many other applications. Easy to bend, it lends itself to making products like end caps for store displays or brochure holders for car dealerships. Acrylic is also used extensively in schools, hospitals, and stores to create sneeze guards and point-of-sale safety items that can be customized with multiple Roland DG devices. Because it's durable and see-through, it's also often used for stylish and sophisticated office signs and door plaques.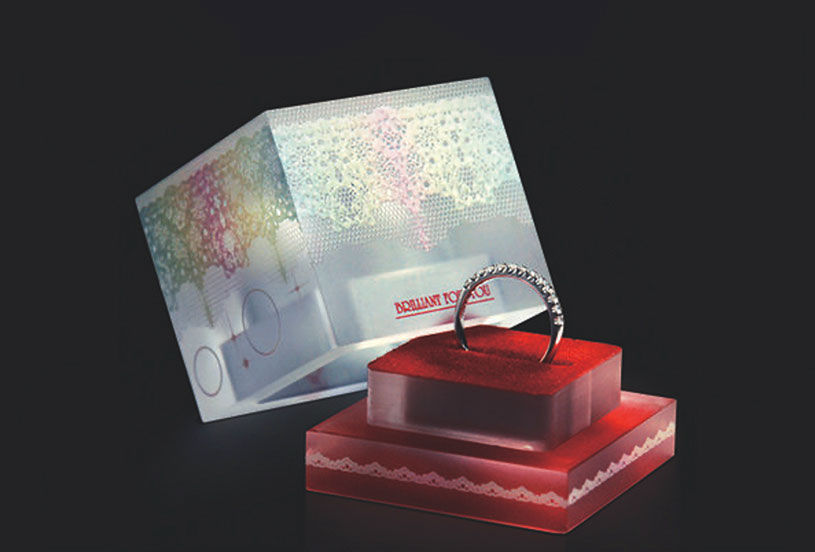 Printing onto Acrylic for Prototypes and Packaging
Acrylic material is often used in product prototyping and specialty packaging. Polycarbonate is used extensively in thermoforming packaging items for products and merchandise. For those graphics customization experts who want to produce specialty packaging and prototypes, VersaUV technology offers clear Gloss ink finishes so that you can not only add colorful graphics to acrylic and polycarbonate items, buy you can also add raised text, special textures and other high-end finishes.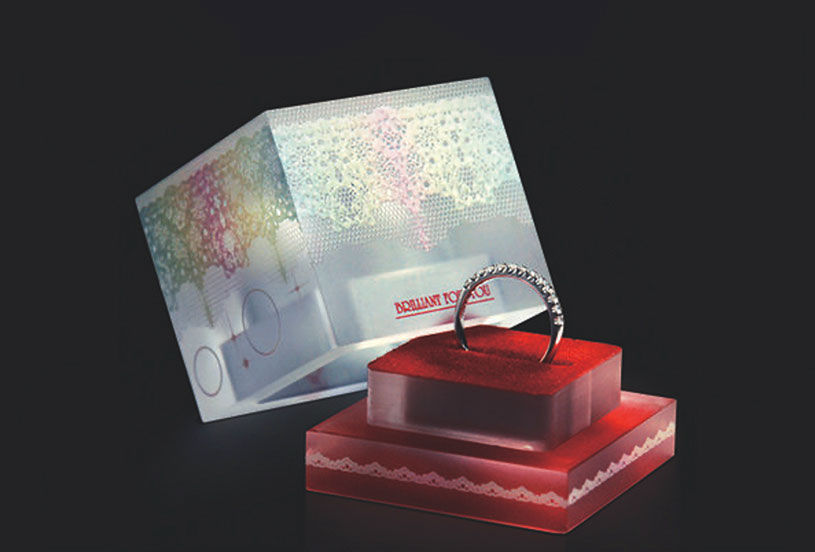 Printing onto Full Sheets of Acrylic for
Sign, Construction, and Promotion
There are multiple ways to create standout panels, sliding doorways, standing graphics and more for tradeshow booths, restaurant interiors, offices, hotels and other applications. Add graphics by mounting vinyl graphics directly to acrylic media or print directly onto full sheets of acrylic with the IU-1000F or VersaUV LEJ-640 Hybrid for a fast, efficient, and advanced way of creating signs and graphics for home and business interiors.